3D rendering refers to creating three-dimensional images of building plans using computer software. 3D models are a vital aspect of the real estate, home design, and building industries, providing a comprehensive understanding of a space's size, color, texture, and possibilities more realistically than traditional 2D plans.
This results in greater collaboration and understanding between all parties involved in the construction process, leading to better project outcomes.
Furthermore, 3D rendering aids in the identification of design flaws before construction begins. After seeing potential problems, architects and clients can make necessary changes and avoid wasting money on changing things during construction.
Whether you're a real estate agent, developer, or homeowner, 3D-rendered house plans are the ultimate way to captivate potential buyers and clients with an effective, realistic visual representation of your property's potential. If you don't know how to create a 3D render — don't fret. We'll go over everything from the process itself to the software commonly used for the 3D rendering of house plans.
Process of Creating 3D Rendered House Plans
Creating 3D-rendered house plans requires sophisticated computer software to generate detailed and realistic images of building plans. You can accomplish it through the following steps:
Drafting 2D architectural plans — A 2D plan is a scale representation of the building or structure, including dimensions, materials, and locations of features. You must create accurate two-dimensional floor plans, elevations, and sections before converting a home design into a beautiful, lifelike 3D model.
3D modeling of the house plan — Once the 2D plans are complete, you'll translate them into a three-dimensional digital home model using specialized software. It will show every aspect of the building — from the wall placement to the positioning of furniture. Of course, if you need to, you can manipulate and refine 3D models to create the desired look and feel of the building.
Texturing and materials — This involves adding colors, textures, and finishes to different surfaces of the building (walls, floors, ceilings). Various materials — timber, brick, and rock — are utilized on multiple surfaces to produce an authentic and intricate appearance.
Lighting and environment setup — When creating 3D home plans, lighting and environment setup are critical to achieving photorealistic results. You must think about both indoor and natural lighting from windows and skylights. A well-designed environment can improve the overall quality of a 3D render by making the scene more "alive." Feel free to incorporate trees, grass, flowers, and other landscaping elements.
Final rendering and post-production — These involve tweaking still images or animations, camera angles, and lighting and further enhancing the 3D model through color correction and special effects. The final result is a beautiful three-dimensional home plan that can convey the space's details, design, and ambiance to clients or prospective buyers. Furthermore, you can download your high-resolution 3D floor plans in JPG, PNG, and PDF formats — in either standard metric or imperial scales — to create dynamic marketing materials that showcase your property in the best light possible.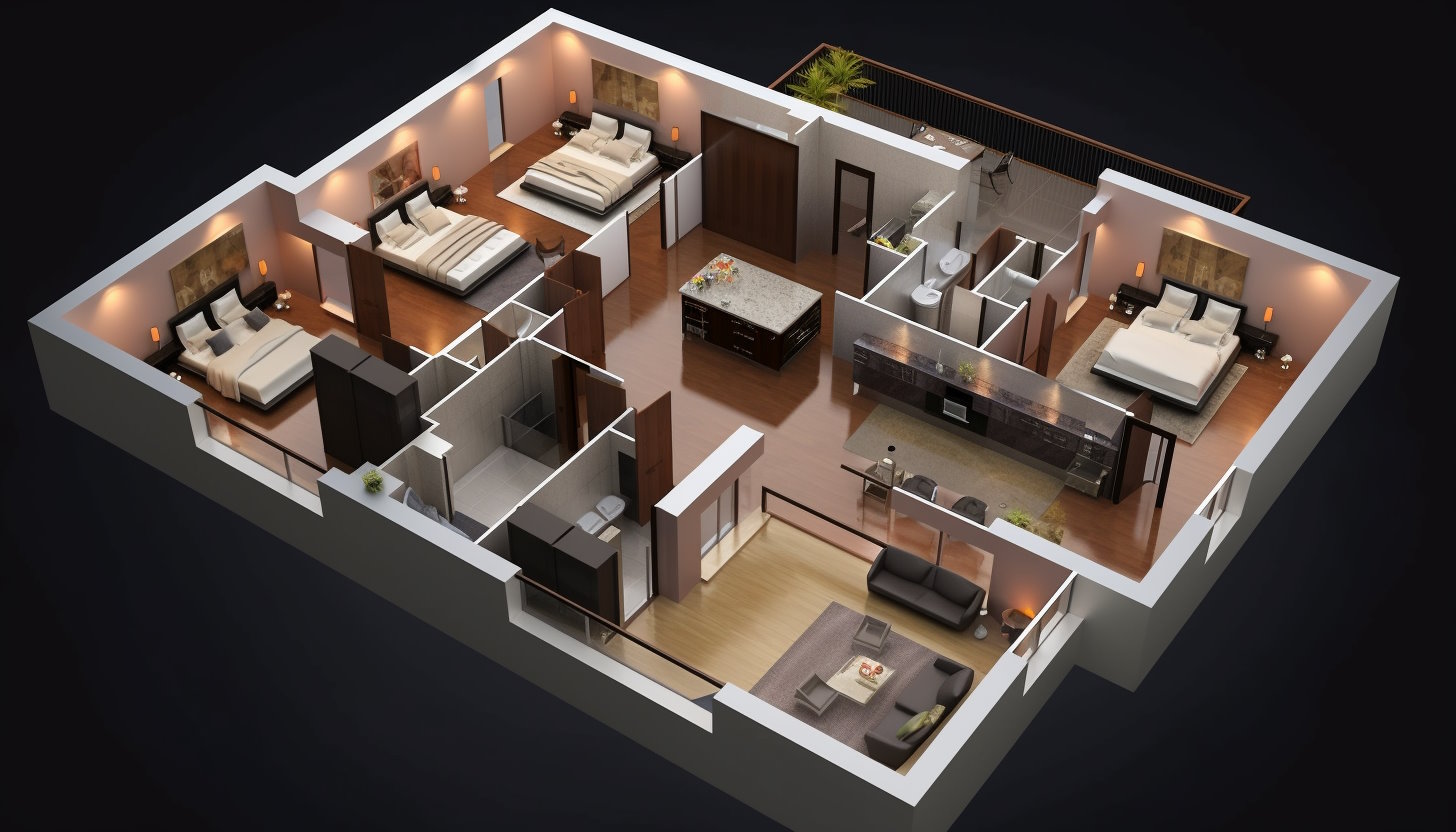 Types of 3D Rendered House Plans
With cutting-edge technology at your fingertips, you can bring your property to life in ways you never thought possible. Below are the most common types of three-dimensional rendering that will launch your business to the next level.
Exterior Renderings
Exterior 3D house plan renderings are computer-generated images that serve to show your property's curb appeal. They provide a lifelike, detailed representation of the building's structural components and exterior features (doors, windows, roofing, and landscaping elements). You can apply textures, colors, and lighting effects to the model, making it look almost as natural as a photograph.
Exterior 3D home renderings offer several advantages over traditional 2D architectural drawings, as they provide a more immersive and engaging experience for viewers. Furthermore, you can customize 3D models to show different lighting conditions (sunrise, sunset, daytime). This enables your clients to see how the building will look at different times of the day.
Interior Renderings
Interior digital visualizations bring to life every intricate detail of the interior of a property, from the walls, floors, and ceilings to the furniture, fixtures, and decor.
Customizable and versatile, interior 3D house plan renderings can be tailored to reflect various materials, colors, finishes, and lighting conditions.
Floor Plan Renderings
As the name says, these renderings create a realistic and detailed visualization of a property's floor plan, including its architectural features, room arrangement, and flow.
Again, customization is key. You can try out different materials, colors, and finishes at your leisure and see how different design choices impact the overall look and feel of the space. Additionally, you can add room names and sizes, personalized notes and labels, and choose to show each room furnished or unfurnished. Moreover, the software lets you rotate the floor plan to your desired viewing angle, be it isometric or bird's-eye.
Virtual Walkthroughs and Tours
For the ultimate experience, nothing beats virtual walkthroughs and tours, allowing clients to step inside the property and explore every inch in stunning detail with a 360-degree view.
So how do virtual tours work? They're created using powerful software that generates a fully-realized 3D model. This model is enhanced with interactive features that let viewers control their movement through the space and engage with its elements.
But that's not all — these tours can also be customized by adding music or narration to highlight specific features of the property.
Software and Tools for 3D House Plan Rendering
The choice of software and tools for creating 3D renderings will depend on the user's specific needs and preferences. The following are the most common options:
Industry-standard architectural rendering software — Programs like 3ds Max, SketchUp, AutoCAD, and Lumion offer advanced features for creating realistic and detailed 3D renderings of house plans, including lighting, material rendering, and animation tools.
Open-source alternatives — Open-source programs such as SketchUp Free, Blender, and FreeCAD attract users who want a more cost-effective solution. However, they may have a steeper learning curve compared to industry-standard software.
Plugins and add-ons for enhanced functionality — If you want to improve your 3D rendering software, consider plugins and add-ons. For example, V-Ray is a popular SketchUp and 3ds Max plugin that provides advanced rendering capabilities and photorealistic results. Other plugins, like Enscape, offer real-time visualization.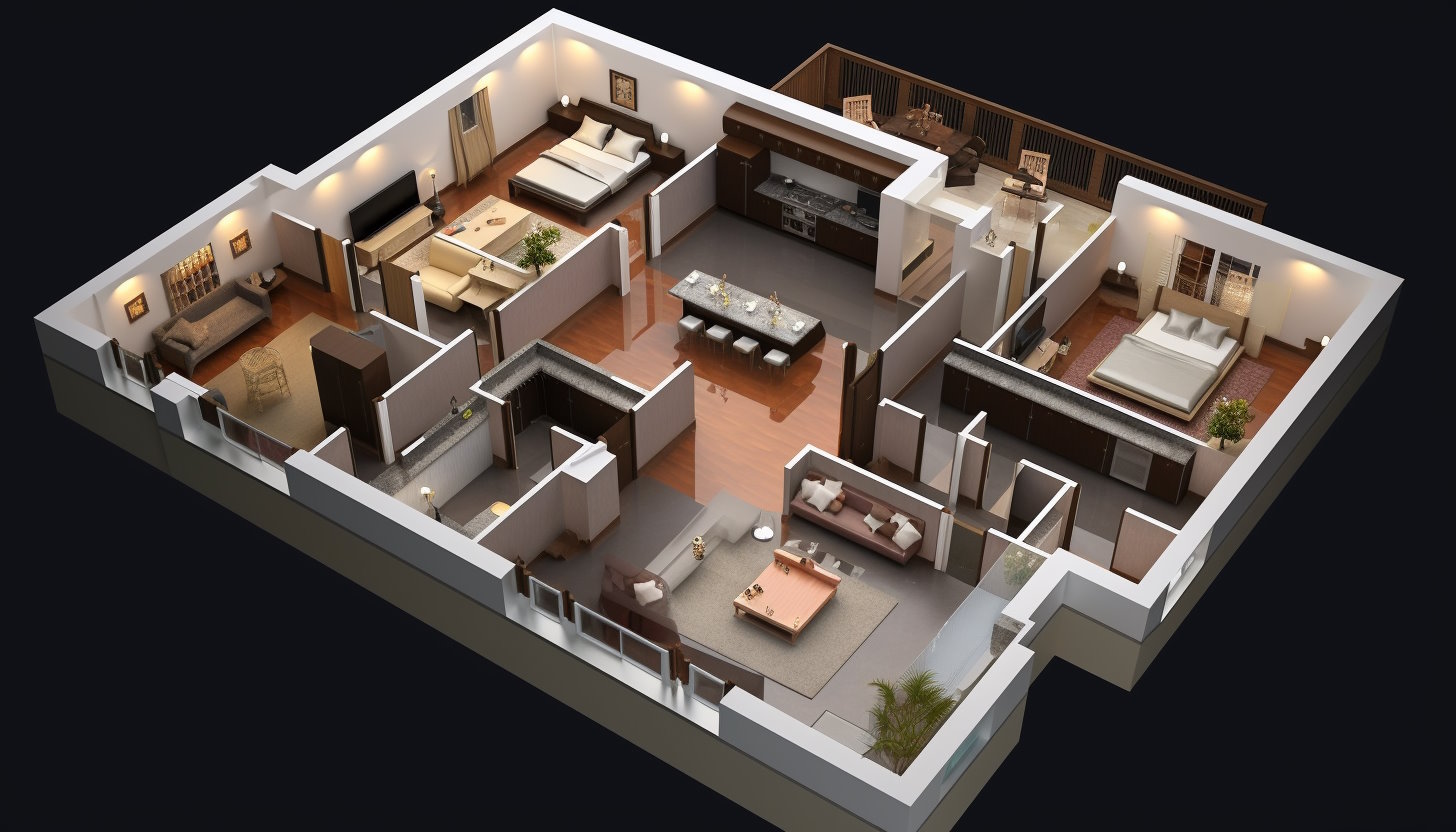 Hiring a 3D Rendering Company vs. DIY
When creating 3D renderings for your project, you have two options: hiring a professional company or doing it yourself. That said, both have upsides and downsides you should think through.
Advantages of Hiring a Professional Company
Hiring a professional company has various benefits. Here is why you may wish to contact a professional 3D rendering company:
Expertise — Professional companies have all the necessary skills. They understand the technical aspects of 3D rendering, including software and hardware requirements, lighting, and materials.
Time-saving — Creating 3D renderings can be time-consuming, especially if you are unfamiliar with the required programs and tools. Hiring professionals allows you to concentrate on other aspects of your project rather than wasting time trying to learn new software.
Cost-effectiveness — While hiring a professional company isn't free, it can be cost-effective. Professionals have access to the latest software (which can be costly in itself), and they can also help you avoid expensive mistakes.
Customization — Professional companies can customize their services to meet your specific needs. They can work with you to understand your vision and create 3D renderings that accurately reflect your requirements.
Access to additional services — Professional companies often offer other services (e.g., virtual reality tours and 360-degree videos) that can assist you in uniquely presenting your project, helping you stand out from the crowd.
Quality assurance — Hiring pros gives you confidence that the final product is top-notch and fulfills the highest quality standards. They have a team of experts who can review the renderings to ensure they are accurate and tick all the boxes.
Learning 3D Rendering Software for DIY Projects
If you want complete creative control over your projects, learning 3D rendering software can be a rewarding experience. In today's technology-driven world, you have many options, ranging from open-source software to expensive industry-standard programs, so you can choose what fits your budget.
Just like any learning, this will take time and dedication. You must start with the basics — navigating the interface, creating shapes and objects, adding textures and materials, and setting up lighting and camera angles.
Aside from creative control, the main advantages of using 3D rendering software for do-it-yourself projects include saving money and learning a new skill. In most cases, the cost of hiring professionals to do 3D renderings for small projects will outweigh the benefits.
Cost and Time Considerations
Cost and time are often the determining factors between hiring professionals or taking on a project as a DIY endeavor.
Opting for a professional 3D rendering company may come with a higher price tag, but it can provide numerous benefits, such as quicker turnaround times and higher-quality renders.
On the other hand, going the DIY route may save you money, but it can also be time-consuming, requiring you to learn the necessary software and tools and possibly leading to costly mistakes. Furthermore, creating high-quality 3D models demands software that often comes with a high price tag.
So, before you decide between hiring professionals and undertaking the project yourself, consider your budget, expertise, and available time, and carefully weigh out the advantages and disadvantages of each option.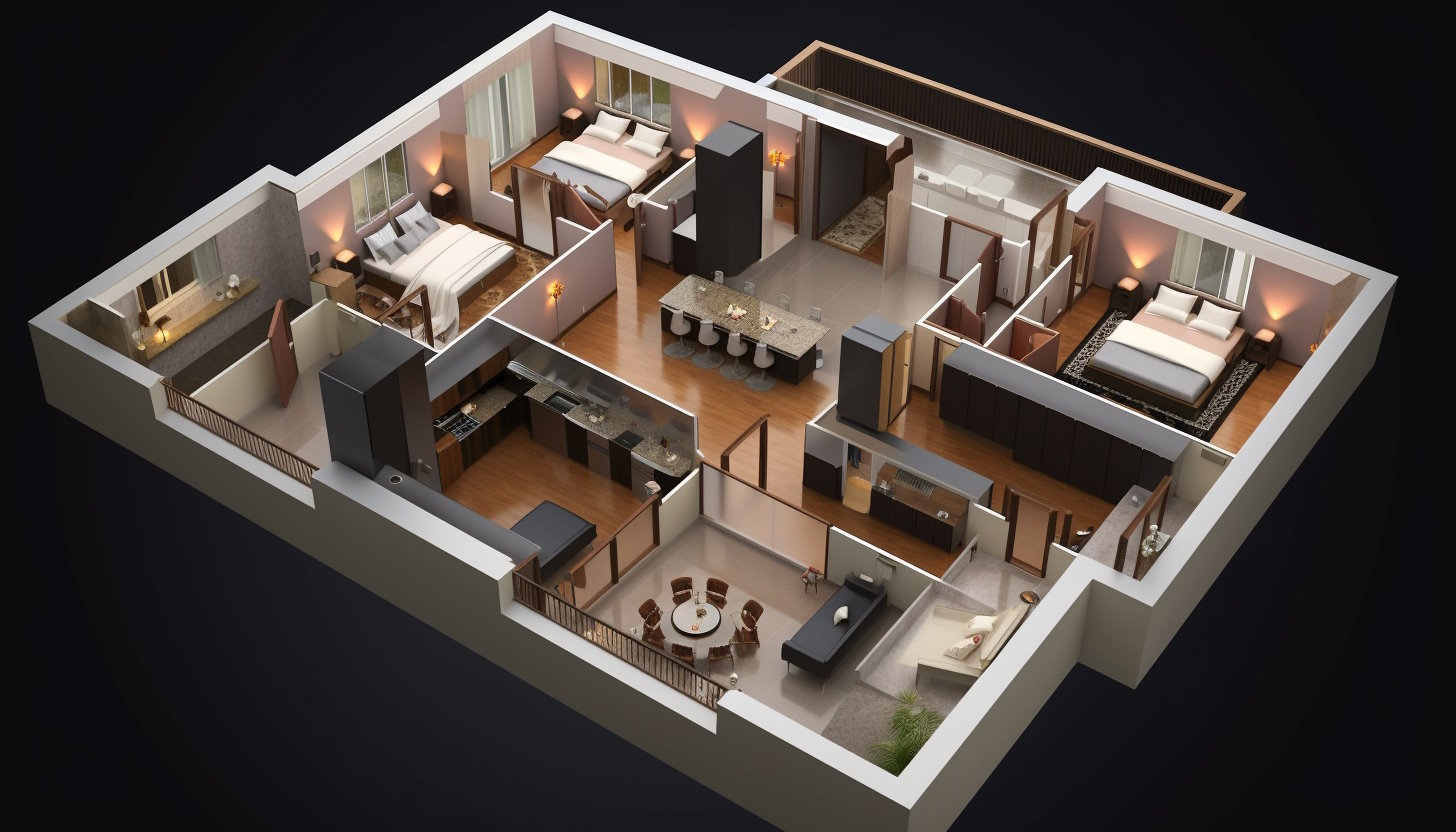 FAQ
How much does it cost to get a 3D rendering of a house plan?
How much you pay a professional 3D rendering company for a three-dimensional house plan will greatly depend on your preferences in terms of design. The more elements you wish to add, the more money you need to put down. Of course, the final amount will also vary from company to company, so you must do your research and get quotes before making a final decision. Generally speaking, home stills don't cost that much (you can get them for only a couple of hundred), but if you want a fully-animated 3D render, be prepared to spend several thousand.
How long does it take to create a 3D rendering of a house plan?
The time that a 3D render takes will depend on whether you do it yourself or hire a professional agency. If you decide to try your hand at 3D rendering, take into consideration the time it'll take to learn the ropes. On the other hand, professionals already know all there is to know about 3D rendering software, and they can present you with a finished model within a couple of days. Naturally, if the project is bigger or more detailed, it may take up to a few weeks.
Can I make changes to the design after the 3D rendering is done?
One of the main benefits of 3D-rendered building models is that you can make all the adjustments you need, even after the model's finished. That said, if you hired a professional 3D architect or artist, you might need to spend more money and time meeting with them until your project is up to your standards.
What file formats are commonly used for 3D-rendered house plans?
Though there are many proprietary formats compatible with specific software (e.g., BLEND by Blender), it's best to use standard file formats like OBJ, FBX, 3DS, IGES, 3MF, STP, and STL. They are supported by the majority of rendering programs and are recommended when you need to share files between different 3D rendering platforms.
Can I use 3D rendering for renovation projects?
You can absolutely use 3D rendering for renovation projects. In fact, you should definitely use it to see how the changes you plan to make will impact the overall design. Furthermore, it's much easier to make adjustments during the virtual design process than during physical remodeling.
Conclusion
It's safe to say the world of architecture became unimaginable without 3D rendering technology. Not only is it crucial in presenting realistic models of future buildings to prospective buyers, but it's also created a ground for better collaboration and communication between architects and clients.
As 3D rendering technology becomes more and more accessible and affordable, the potential of three-dimensional home plans is even more promising. It also means that not only professionals can use it — anyone can learn how to make 3D models themselves. The only limit is your imagination.