Do you want to offer home buyers a convenient way to understand the floor plan of their future home even before beginning construction? Use our 3D floor plan rendering service and provide your clients with a detailed overview of your home project.
Rendering a 3D floor plan created by professionals will help real estate businesses attract more customers and foster long-term loyalty.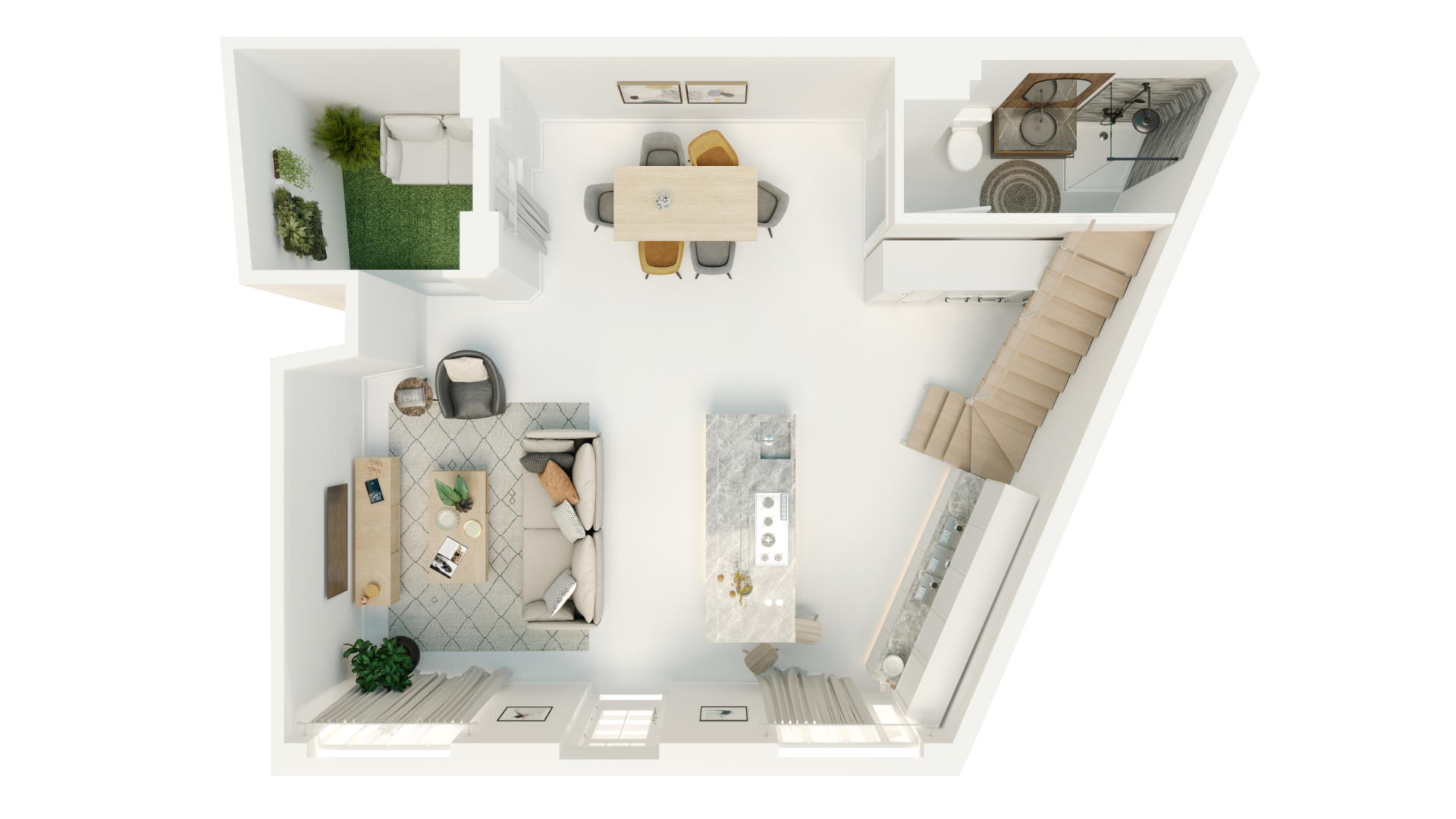 What's a 3D Floor Plan?
Architects and interior designers often use 3D floor plans to offer a birds-eye view of the home. It's different from standard floor plans, as they include all of the home's features, including furniture, paint colors, materials, and much more. A 3D floor plan takes home design to the next level thanks to its ease of use and the ability to make the interior more visually appealing.
Standard 2D floor plans show only walls, doors, windows, and the basic blueprint. This layout can sometimes be very confusing, especially if the clients' first time seeing a floor plan. Thanks to 3D elements incorporated into a 3D floor plan, customers can now visualize so much more.
How Can a 3D Floor Plan Help Real Estate Businesses With Potential Buyers?
Thanks to cutting-edge visualization and rendering technologies, real estate companies and workers can showcase homes in a much more interactive way. Apart from learning more about the basic flooring details, buyers can now examine all the details. They will have a better understanding of the space, the furniture, and other elements. With a 3D floor plan, they can see their future home in a whole new light.
Architectural plans are more appealing than ever, thanks to 3D plans. Moreover, they have become an inseparable part of every home project in the real estate industry. Switching to 3D floor plan rendering will give your customers a fresh take on home design and help you gain new home buyers who will appreciate the minute flooring details in your 3D plan.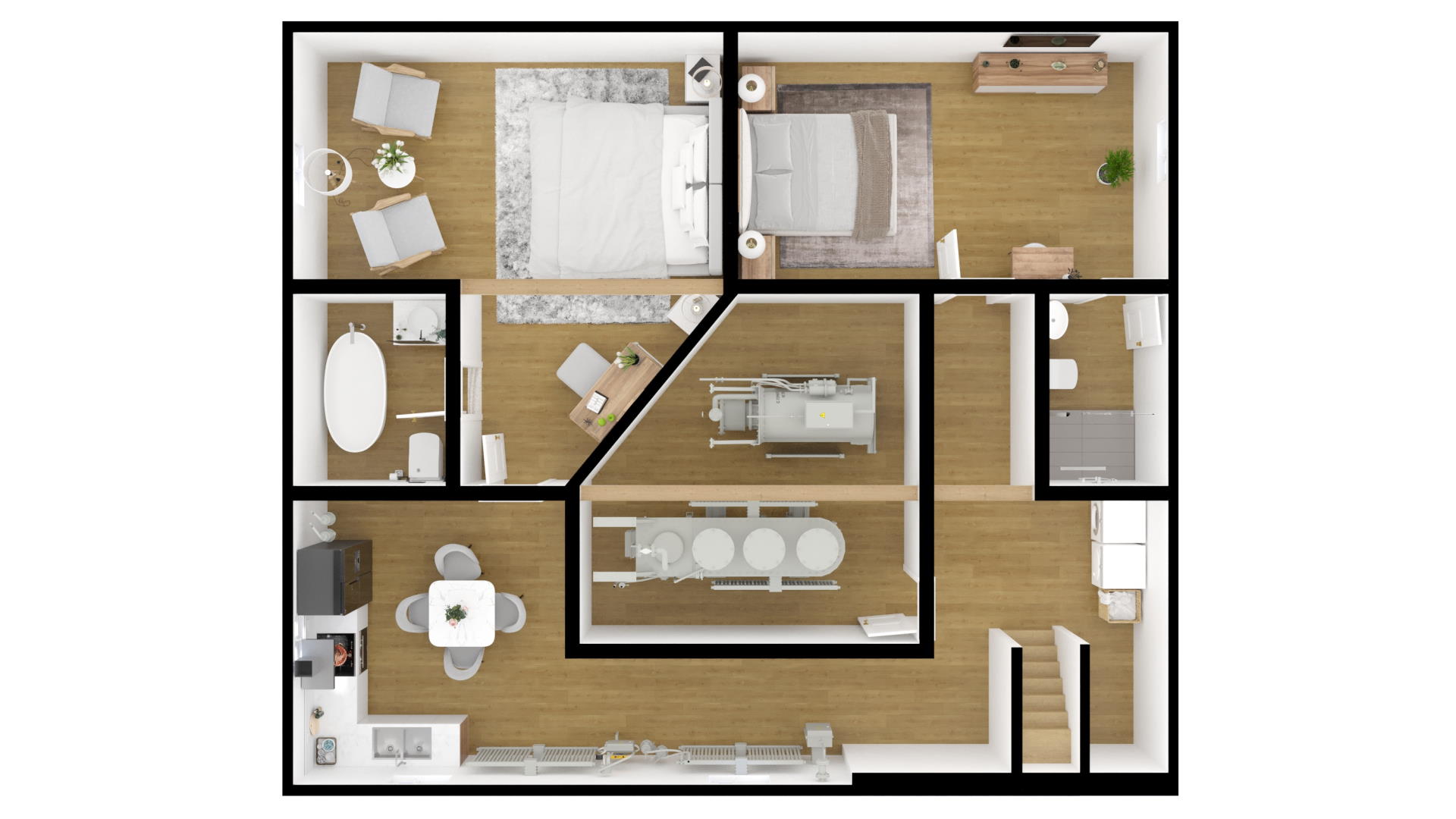 What Does a 3D Floor Plan Look Like?
A 3D floor plan shows you the entire interior of the selected floor from above. Picture yourself flying over the space you want to see, but there's no ceiling, so you can take your time to observe the interior as a whole. As opposed to 2D floor plans where you need to visualize what each house would look like from the inside, now you can actually see it all, at least a 3D model of it.
Our 3D floor plan rendering service can make that happen, helping both home builders to construct the actual house and its interior and real estate agents to advertise the project to potential buyers.
What Are 3D Floor Plan Rendering Services?
Rendering is the process of assembling a 2D or 3D image or animation via dedicated software. In most cases, it requires a professional and a high-performing computer, especially when rendering 3D projects and objects, including a 3D floor plan.
Benefits of 3D Floor Plan Rendering Services
Let's check some of the primary benefits of using 3D floor plan rendering:
It helps showcase a pre-existing property — 3D floor plan rendering lets potential customers see the entire residential space before the construction actually starts.
It's convenient — With a 3D floor plan, you'll have everything you need in one place, which makes it easier for all parties involved in the construction and sale of a home. Everyone can refer to it at any point.
It's good for marketing — Selling a home with a 3D floor plan allows future homeowners to see what they're buying.
You can save money — Once you pay for a render, there's no need to print your project or buy any materials needed for printing and distributing a floor plan. You can just send a link to anyone interested in seeing it.
The construction will be faster — Builders who are familiar with the floor plan can speed things up.